What is an anti-acne peeling?
The anti-acne peeling is a facial treatment that will stimulate the epidermis and the dermis through the brush assisted application of a substance that will dissolve the keratin, which is the principal protein in the superficial layer of the epidermis. It will unify the skin tone and reduce skin imperfections, such as blackheads and dilated pores.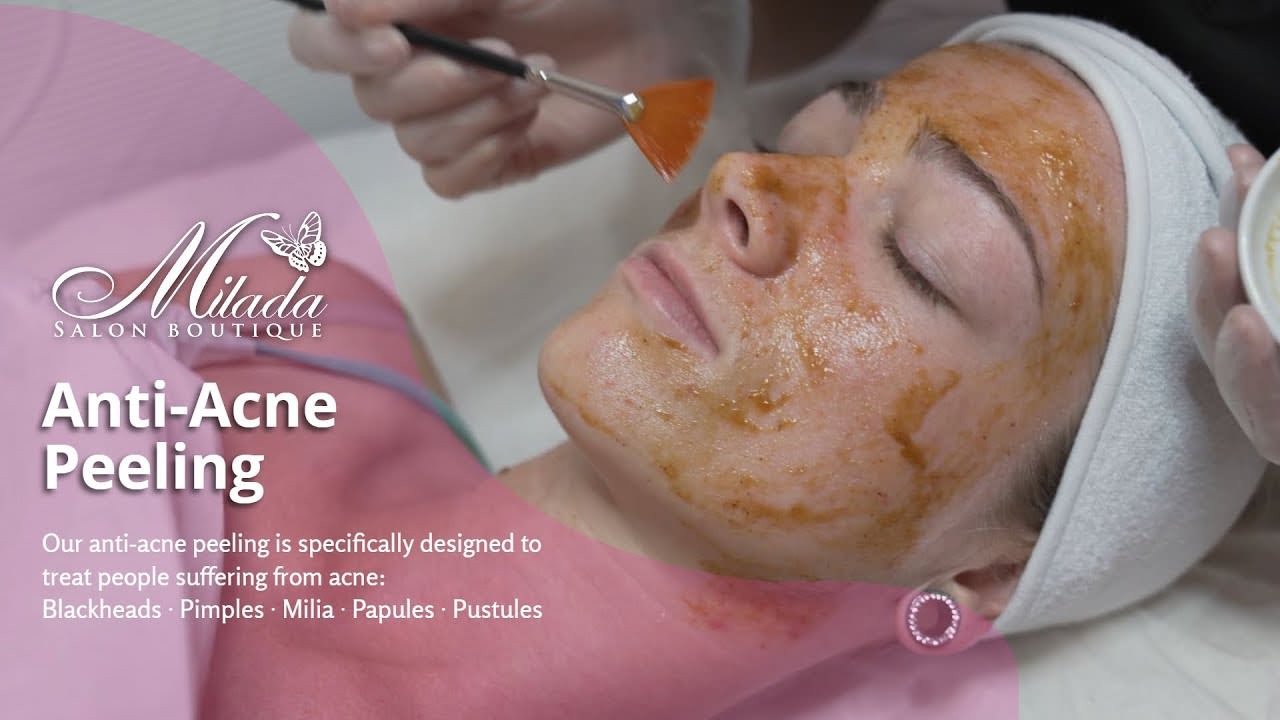 What are the benefits of anti-acne peeling for my skin?
It will stimulate the natural regenerating and repairing functions of the skin. It works on dilated pored, blackheads, excess of sebum, acne scars and overall lack of skin brightness. Furthermore, with the anti-acne peeling, you don't work on only one or two issues, but you improve the overall state of your skin.
How does the peeling work on my skin?
The peeling will sanitize the pores: the heat that is created by the acids used at different concentrations (5% to 25%) will work directly with the gland that is responsible for sebum production. This will result in less greasy skin and fewer imperfections overall. The heat will also get rid of the bacterias responsible for the acne's inflammations, and its proliferation.
Which issues can be treated with the anti-acne peeling?
Our anti-acne peeling is specifically designed to treat people suffering from acne. This includes cases of:
Blackheads
Pimples
Milia
Papules
Pustules
How many treatments do I need to get sustainable results?
We offer 2 types of anti-acne peeling: medium or deep, both are adaptable to your condition. You would need 3 to 4 peelings, done at an interval of 3 to 4 weeks. A free consultation is strongly suggested before beginning treatment.
Do I need specific care following my anti-acne peeling?
The anti-acne peeling offered at Milada Salon and Spa is very gentle on your skin. You can get back to your daily activities right away, and can even wear make-up. Since the peeling works as a skin detox, you may notice some imperfections coming out in the 2 to 5 days following the treatment. The use of sunscreen (SPF) is mandatory following each treatment.
Who can receive an anti-acne peeling?
Our anti-acne peeling is specifically designed for anyone suffering from acne: men and women, of any age, and any skin type or skin colour. The acids used during the treatment vary, and are used in different concentrations, based on your skin's specific needs in order to obtain the best possible results for you!
| Treatment | Duration | Regular | VIP * |
| --- | --- | --- | --- |
| Anti acne cleansing treatmeant | 60 min | 385$ | 235$ |
| Anti acne treatment – Glow booster peeling | 60 min | 415$ | 289$ |
| Marine peeling – Intense detox | 60 min | 475$ | 330$ |
* You can access to VIP prices at all times with our membership card, contact us for more information!