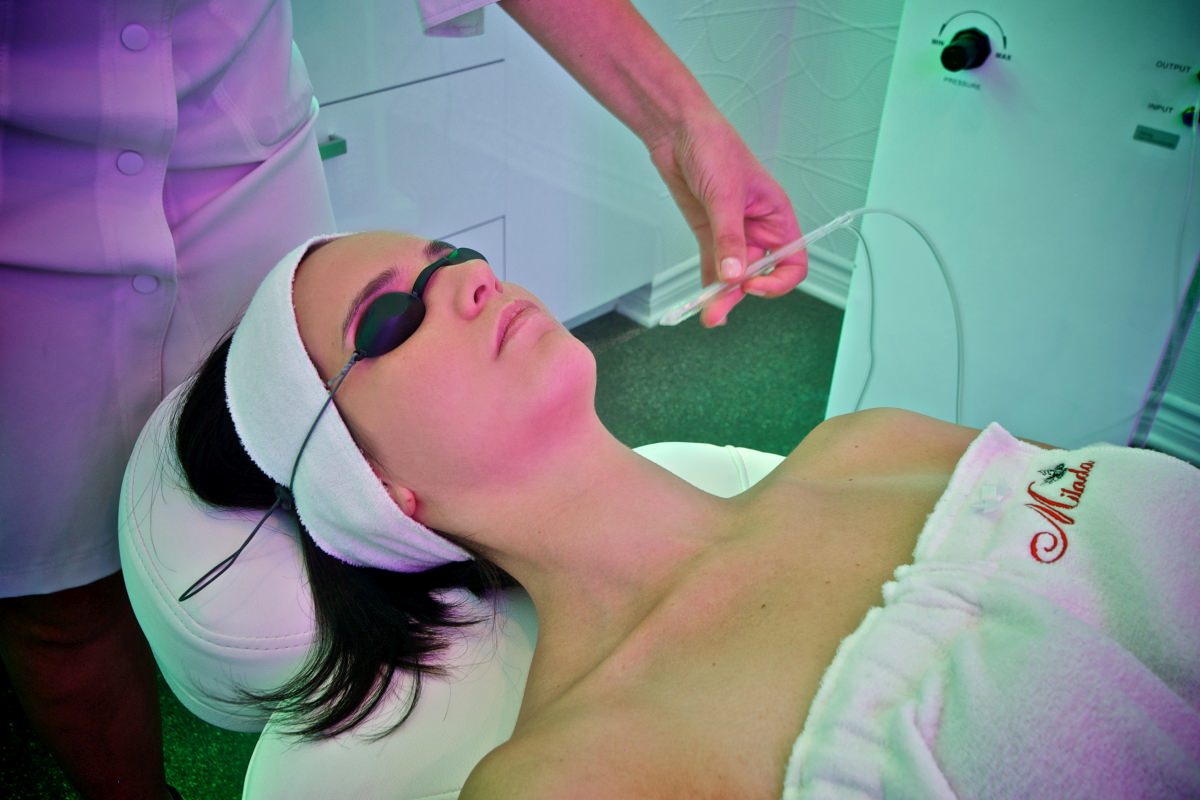 08 Jul

Oxygen Jet-Water Peel treatment

The Oxygen Jet Peel Facial is simply a "pressure wash" that uses jet technology to deep clean by infusing saline and oxygen into the skin, leaving it hydrated, exfoliated and feeling refreshed. There is no pain, no downtime and it feels cool and soothing to your skin.

It's like a mini power washer for the skin! Gently exfoliate the top layers of dry dead skin cells and clean out your pores while hydrating and oxygenating your skin at the same time! NO DOWN TIME and feels great! This is our most popular treatment to do just before any special occasion. Look refreshed! This treatment is also great for acne patients because it helps kill the bad bacteria in the skin.
The benefits of oxygen jet
Superficial facial peeling
Ideal for various skin types
Leaves no dead or burned skin
Improves perioral wrinkles
Only natural components
How does oxygen jet peel works?
The Oxygen Jet Peel treatment combines 100% oxygen and sterile saline to gently cleanse and hydrate the skin. The combination is delivered much like an airbrush treatment (mini pressure wash) and the effect is amazing.
This gentle cleansing unclogs pores and removes dirt and makeup that can build up on the skin's surface over time.
What can be treated with the Oxygen Peel:
Sun-damaged skin
Age spots
Stretch marks
Acne scars
Skin smoothing and polishing
Hand and décolleté beautification
Post treatment care
Avoid sun for 24 hours and apply sun block.
What to expect of oxygen jet peel therapy
With a superficial and/or deep facial peeling, multi-function for various skin types and a wide range of applications, Oxygen Jet is the revolutionary approach for skin revitalization; facial resurfacing scars (keratosis, acne, trauma); treatment of hyperpigmentation and age spots; deep cleansing and intensive moisturizing; stimulation of cells metabolism and oxygenation of lipids, raising cells' immune activity; increasing skin's and hairs oxygen nutrients/growth; transcutaneous delivering of oxygen as well as vitamins and supplements necessary for skin rejuvenation; and hands and décolleté beautification. A unique, painless, neat and sterile procedure, that does not leave any dead or burned tissue.